Amazing how the presence of one more kid can really cut into my blogging time.
Oh, OK, I wasn't exactly prolific before. But "can't blog, kid's home" sounds a lot better than "can't blog, mopping the floor," KWIM?
It's been H. O. T., too. Not today, though. It's actualy raining a bit. I have been knitting quite a bit. Lots of pattern researching, swatching, and blocking. And playing with my new
Needlemaster
set. MUCH better than I feared. For $29 (Yay Tuesday Morning!) it's certainly worth it.
Here's what the yarn from last entry became: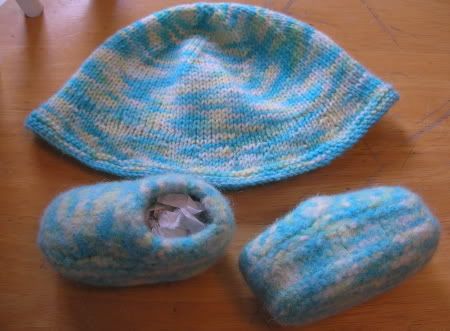 A little sunhat and felted mocs for my cousin's new babe.
Here's the hat on a bear, to show off the little brim: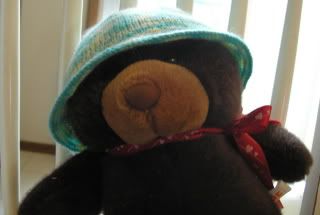 I used sock weight yarn and smaller needles, to get a newborn size from
this pattern.